Wishing anyone Happy Maha Shivratri is so easy with HappyWishing.com. Yes, we have got one of the coolest collection of Happy Maha Shivratri images or pics.
Maha Shivaratri is one of the biggest festival widely celebrated by Hindu devotees. This year the festival falls on 21st February, Friday. On this holy day people do fasting without taking any food or even drinking water.
You can check out our below collection for the top 10 HD images for Maha Shivaratri. You can send these high-quality images, quotes to your family friends and loved ones wishing them great luck and good health. You can simply download Maha Shivaratri images by just long tapping on them and saving them into your phone or PC. After that, you can share those images with others.
Best Happy Maha Shivratri Images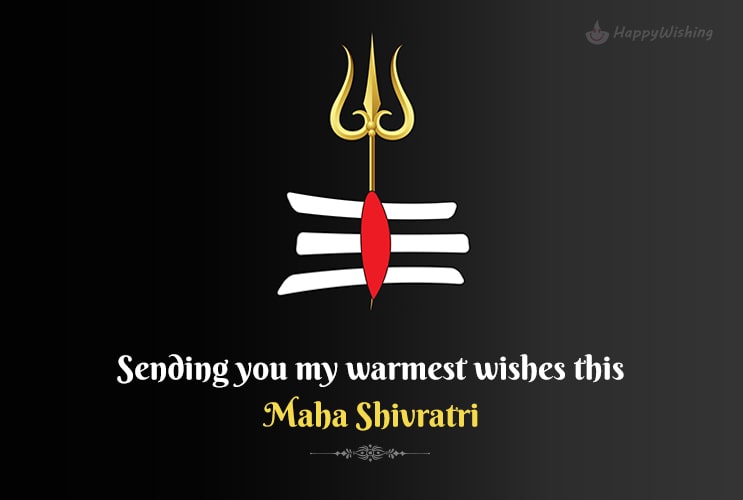 About Maha Shivratri: There are many sayings associated with this great day. Some legends say this day is celebrated as Lord Shiva drank the poison that is coming out of Samudra Manthan to save everyone from it. Others say, on this day Lord Shiva married Goddess Parvati. On Maha Shivaratri, people celebrate their wedding.
Great Night of Shiva usually falls during the 11th month of the Hindu calendar. That is February or March of the English calendar. People celebrate this holy festival with great enthusiasm. Along with fasting, people do prayers, yoga, meditation at Shiva temples every corner of our country.
On this day people visit to nearest Siva temple to offer their worship to Lord Shiva. They offer milk, water, Bela Patra, Khasa and fruits on shiva linga with the guidance of temple priests.
12 famous Shiva temple destinations in India are called Dwadasha Jyotirlinga. People come here from every corner of India to celebrate Maha Shivaratri with many other devotees.
People chant shlokas, maha mrutyunjaya mantra, light dias while fasting till midnight of Maha Shivaratri. After midnight, they break their fasting after the mahadwipa taken to the top of the Shiva temple. There is the belief in Hinduism that doing fasting on this day cures many diseases.
We in India and all over the world, Hindu people wish their friends and family with the blessing of Lord Shiva on the occasion of Maha Shivaratri. So, to help everyone in this regard we created some of the best wishes, quotes, and images for Maha Shivaratri. So, you can easily send them to your relatives.